Edelbrock Satin Performer Intake Manifold For 1987-1995 Chevy Small-Block 2104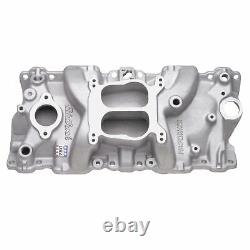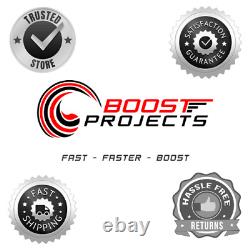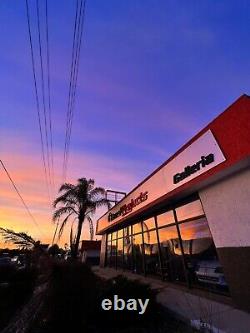 Edelbrock Performer Intake Manifold For Chevrolet 262-400 Small-Block V8 is Designed for Street Applications with 1987-95 Cast Iron Heads & Canted Center Bolt holes. Accepts (4150-Style) Edelbrock or Q-Jet Carburetors. Edelbrock part #2104 Performer intake manifold is designed for street 262-400 c. Edelbrock's Patented Dual-plane, low-rise design with a 180-degree firing order greatly improves torque over a wide rpm range for excellent throttle response. The Performer intake manifolds are ideal for passenger cars, trucks, 4x4s, tow vehicles and RVs. For 1987-95 stock aluminum heads use #2101. Ec Basic Operating Rpm Range.
WARNING: This product can expose you to Lead, which is known to the State of California to cause cancer or birth defects or other reproductive harm. Manifold ht: A-3.50", B-4.60"; Carb pad height: 4.05; Carb recommendations: OEM 4-Bbl, Use choke rod #9171.
Edelbrock AVS2 Series or Performer Series Carb 500-650cfm. Port exit dimensions: 1.14" x 1.88"; Recommended intake gasket: GM #10163409; Use RTV sealant to properly seal end seals, such as Edelbrock High Temp Silicone sealant #1076, DO NOT USE END SEALS GASKETS. Sealant must be used on intake bolt threads if the threads extend into lifter valley or coolant passage. NPT/Pipe thread fittings require the use of Teflon tape or paste on threads to ensure proper seal. DO NOT OVERTIGHTEN NPT/Pipe fittings, this may cause the aluminum to crack around the fitting boss.
NPT/Pipe thread is a tapered thread. Hardened washers Must be used with intake bolts to ensure proper torque and prevent galling of the aluminum. Choke plate #8901 included; Even though manifolds are compatible with EGR systems, this does not mean they are legal for use on emissions controlled vehicles. Check local laws for legality.
Proper installation is the responsibility of the installer. Single Or Dual Plane Type. Founded in 1938, Torrance-based Edelbrock, LLC is recognized as one of the nation's premier designers, manufacturers and distributor of performance replacement parts for the automotive aftermarket. Edelbrock produces their core products in the United States of America using state-of-the-art equipment in their world class manufacturing facilities. Edelbrock, LLC encompasses five locations in Southern California and one location in North Carolina totaling more than 500,000 square feet.
Edelbrock Corporation has six locations: Three in Torrance California, two in San Jacinto, California, and one in Sanford North Carolina totaling over 500,000 square feet. Torrance Headquarters include: R&D; manufacturing; state-of-the-art testing facilities, advertising and tech support. Less than a mile away is Russell Plumbing and our Distribution Center.
Our Aluminum Foundries are located close by in San Jacinto. In 2008 we added a new Permanent Mold and Heat Treat facility next to our existing sand cast foundry, which has been called the most state-of-the-art sand cast foundry west of the Mississippi.
" This investment in American facilities is part of our commitment to "Made in USA products and performance. CP Cometic ACL Ferrea and ARP Kits. Your address must be confirmed. Buyers who pay with unconfirmed addresses will not be accepted. We always look to satisfy our customers in whatever needs they may have.