Moroso 20401 8 Oil Pan For Chevy Big Block Engines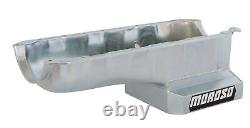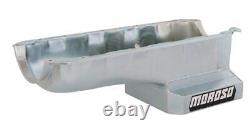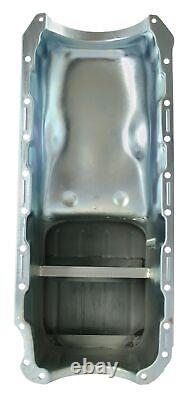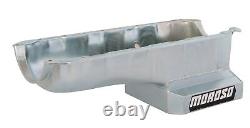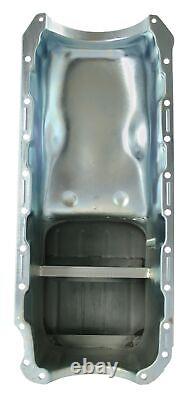 For Use With Mark IV Big Block Chevy Engines/ Strokes Up To 4.250 Inch With Steel Rods Or 4.090 Inch With Aluminum Rods; Street/ Strip; 7 Quarts; Without Windage Tray; Wet Sump/ Kicked Out; 8 Inch Sump Depth X 10 Inch Sump Length; With Baffle; Zinc Plated; Steel. Moroso 20401 8 Oil Pan for Chevy Big-Block Engines. Moroso performance products was the first company to manufacture racing oil pans with deep and kicked out sumps, thereby solving the lubrication problems of countless racers. While different types of automated machinery is used to make the individual components, Moroso oil pans are precision welded, one at a time, by skilled craftsmen who take pride in their work. All Moroso oil pans and oiling components are engineered to be fully compatible with one another.
This allows engine builders to select the best combination of equipment to suit their particular needs. It also eliminates the problems that often occur when using components from different manufacturers. Moroso offers a wide variety of oiling system accessories including Oil Pumps, Pickups, Windage Trays And Screens, Crankshaft Scrapers, Tanks, Breathers, Fittings, Filters, Drive Kits, Oil Pre-heaters, And Accumulators. Each is designed, developed and tested to work together as an integrated system with our oil pans.
And each is built with the quality that you've come to expect from Moroso. Items deemed missing/or lost in transit from carrier, a claim must be filed. Note: Photos do not always represent the actual product. For kits, photo might show entire kit and listing is only for one component.
If in doubt, please reach out to our customer service team. If for any reason you are not happy with your order or service you received, please reach out to our customer service team to resolve this issue. Please allow a 2-day business timeline. Prices and quantities can fluctuate daily.
In these cases, customers will always receive 100% of their funds back.