350 LT1 Style Engine (1970 Dated Heads) 3970010 Block (Forged Pistons)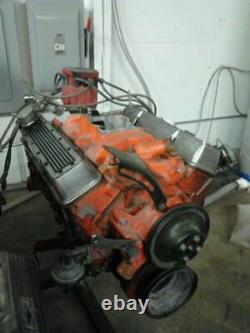 High Nickel GM #3970010 Engine Block "010 020" Marked Block decoding High Nickel! Optional Winters GM Aluminum High Rise Intake. 030 pistons yielding right around 10.3:1 static compression for pump gas operation. High Flow High Horse 64cc Fuelie Heads. Mallory HEI Ignition (Can install GM Points Distributor w/ black cap if you want it to look like 1969 -1970 distributor). Brass Freeze plugs during rebuild-Rebuilt. Hot Street/Strip Cam that sounds aggressive but starts and runs wells. This is a very good running small block Chevrolet V8 engine removed from my 1970 Camaro. It is similar to the 1970 LT1 Z/28 Camaro and Corvette engine but feels much more powerful. It is VERY FAST and runs very good whether it is winter or hot summer. You will not be disappointed in this small block, it is one of the best running muscle car engines I have ever had the privilege to drive and enjoy and is extremely reliable. Most motors are hard to tune, have cam or carb or ignition bugs--this one does not. It does have a lopey street /strip performance camshaft in it, but it is very streetable in that power brakes work well with it and it starts right up and runs great at idle, mid throttle, and high RPM. This engine has in it the same type of head used on the 1969 and 1970 Z/28 with the smaller 64cc chamber and high flow runner--these heads are dated 1970. Also, 1970's vintage high nickel 3970010 engine block. I estimate this motor makes around 420hp at 5500rpm and around 450ft lbs torque.
This engine has on it the hi-po 8" balancer GM vintage timing cover with the highly sought after A E O timing tab for 8" balancer. The balance is also correct 8 GM balancer correct for the timing cover. I just drove it on a 100 mile round trip to have black vinyl top re-installed back on the Camaro after having it painted back to its correct GM born color, and this engine was a please to drive, even though it was 90+ degrees F and was driven on I-69 with 70MPH speed limit for 40 miles each direction. This engine has been cared for and zinc put in with last oil change and has only been used for hot rod cruising around and has not been raced since I have had it. It runs better than a brand new engine.
It is tuned correctly and broken in successfully! I cam make any changes to this engine you may want since I own a full engine shop subject to a price change. This engine was fully rebuilt, honed and decked, brass freeze plugs and was built for power, performance, and reliability before it was installed in the Camaro!
Engine Block: Vintage high knicle 3970010. Heads: 1969/1970 Z/28 Style 302/350ci #3947041. Yes, the 041's are considered fuelie heads (along with the 492, 462, 186, and 461 double hump castings). These are all basically the same head with a 160-170cc intake runner and were the best that GM offered on a production vehicle. Instead of a double hump identification mark, these high performance heads have a trangler identification mark. Although they don't have the double hump, 041 castings have everything else that is desirable in a high performance head. These heads have a 64cc combustion chamber and were originally supplied with either a 1.94 or 2.02 intake valve. However, many times these heads are equipped with a 1.94 in.
Valve and so the seats and short-turn radius can be given a super tune-up when cut for 2.02 valves. The 041's are virtually identical to the 186 double hump casting, except for the fact that the 041 has accessory bolt holes. These heads were a wringer when the "double hump" casting were not legal.
I have a set of 041's in my garage right now (along with two set of 462 double hump heads, on set of 481x heads, and one set of 292 turbo heads) waiting for me to build a motor to put them on. These heads, while not all out race pieces, make for a bad street machine when installed on a properly setup small block. Mortec also lists 041s as 302/350 performance heads. "Right angle" casting identifier, 64cc chamber, accessory holes, good HP head. 041 heads: This head is basically the same head as the 186 head used in the same era. Back then, Chevy always had two different castings to do the same job just in case a problem was found in either one, so there would be no interruption in production. So, both the 186 and the 041 heads were used in the 69 302 Z28 and the 70 LT1 Z28 and Corvette with 2.02 valves, and also in the SS350. They also were used in the 350hp/350 engines in the Corvettes both years with 2.02 valves. The item "350 LT1 Style Engine (1970 Dated Heads) 3970010 Block (Forged Pistons)" is in sale since Wednesday, April 1, 2020.
This item is in the category "eBay Motors\Parts & Accessories\Vintage Car & Truck Parts\Engines & Components\Other". The seller is "custom_engine_supply" and is located in Angola, Indiana. This item can be shipped worldwide.
Interchange Part Number: 3970010 CTC
Manufacturer Part Number: CHEVROLET Z28 SS
Other Part Number: CTB, CTC, MO, MN, DZ, LT1 350 370HP
Brand: 3970010 BLOCK