Proform 141-925K2 1958-1986 Small Block Chevy Engine Dress-Up Kit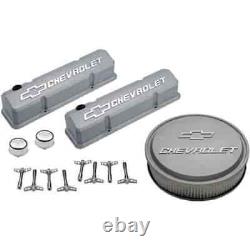 Raised Emblems in Cast Gray Crinkle Finish Includes. Proform Cast Die-Cast Slant-Edge Valve Covers - 778-141-925. Proform 14 Cast Gray Slant-Edge Air Cleaner - 778-141-832. Proform Chrome Push-In Air Breather (Qty 2) - 778-141-616. Proform Chrome Valve Cover Wing Nuts (Qty 2) - 778-141-600. Note: Kit includes cast air cleaner, picture represents polished air cleaner. Around here, we don't just sell parts - we rely on them when driving our own cars around racetracks, dirt trails, and interstates across the country. Parts may be our business - but grease, fuel, exhaust, power, and speed are what we live for. Today, more than 350 people are employed by JEGS and the business draws in hundreds of thousands of customers each year.
Yet, we maintain the culture stared by Jeg Coughlin from the very beginning: a family-run performance shop that preserves a trusted relationship with each and every customer.